4 Ways to Experience Dynamic Spanish:
Click here for more information about the Dynamic Spanish VR app for Oculus headsets.
Dynamic Spanish contains two immersive 360 video courses, supported by online materials:
A free trial is available - sign up here.
Conquer your fear of speaking Spanish through simulated interactions with virtual amigos
Build your Spanish speaking confidence by experiencing and practising realistic scenarios, which simulate the emotions and nerves of speaking a foreign language.
The authenticity of the experience creates memorable interactions that will stick in your mind so you can easily recall the language, preparing you for real-life encounters.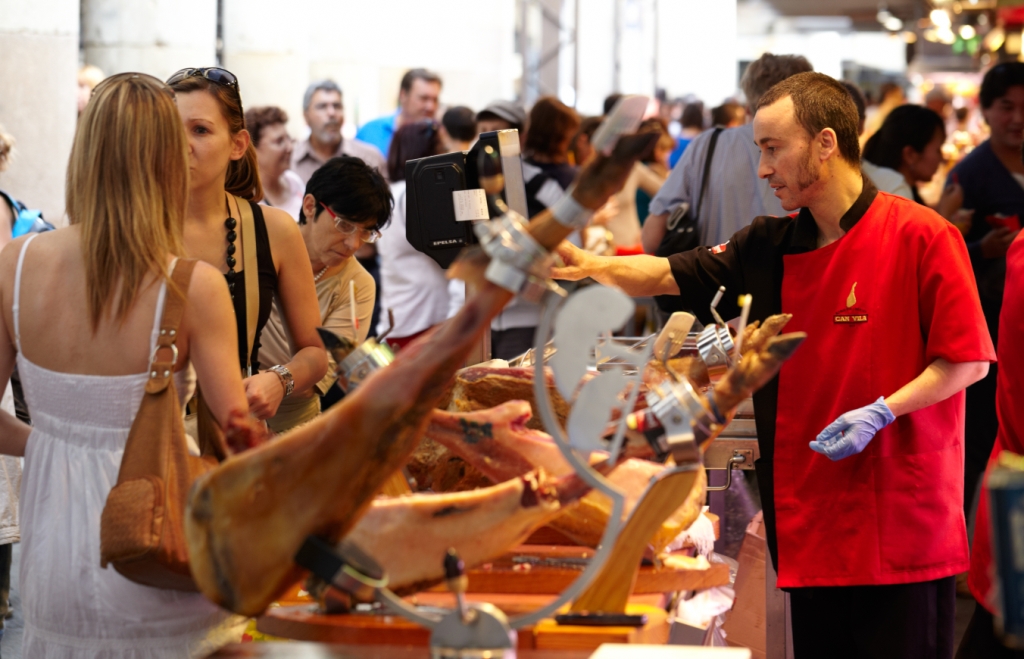 What's a VR lesson like?
Nothing can quite prepare you for the real experience of needing to speak Spanish for the first time. Panic and anxiety set in immediately and make you splutter out an error-filled string of words. Even if you get it right and are understood, the response will almost certainly differ from the set phrases you've been learning and preparing for.
Dynamic Spanish simulates that experience in a surprisingly realistic way, with real people asking you real questions and waiting for your reply! First, you'll prepare by learning and practising your speaking and listening skills in a fully immersive classroom.
The Starter Pack covers the following topics:
How to Learn Spanish ~ Introducing Yourself ~ Numbers ~ Learn 20,000 Spanish Words ~ the Alphabet ~ Pronunciation ~ Likes, Dislikes and Hobbies ~ Making Plans ~ Having Fun in Spanish ~ Maintaining Your Study Habit
Authentic conversations
After you've practised in the classroom, you'll step out onto the streets of Valencia to engage in role-play based conversations. You'll be nervous and make mistakes, but that's ok because as real as it seems at the time, these people aren't actually there – that's the joy of Dynamic Spanish!
Interacting in Spanish in these immersive video encounters will give you the confidence to have conversations in real life. You will learn to stay relaxed and calm, building on your speaking abilities, so you can speak Spanish with ease.
You'll learn how to learn Spanish
The Starter Pack will help you create a sustainable learning habit, and you'll learn how to regularly interact and have fun with the Spanish language. The course includes online materials such as flat video lessons, worksheets, and quizzes, along with technical support via email.
Discover the culture, history, and language in fun, immersive 360 videos
Once you're confident with the basics, go on virtual Trips and explore cities, landmarks, and festivals.
Your tour guides will quiz you throughout the engaging cultural experiences, to test your listening comprehension and speaking abilities.
You'll be immersed in incredible festivals, like Seville's Feria de Abril and Valencia's Las Fallas.
Soak up the sights, sounds and traditions of this enchanting country and before you know it, you'll be planning to visit in real life!
Immerse yourself in guided tours around breathtaking sights
Go on 10 video Trips around Spain in 360, taking in the sights and sounds as you're guided through each adventure. The videos have optional Spanish and English subtitles, and the online course contains transcripts, reading activities and additional videos for speaking practise.
Go on 10 gallery Trips and learn about what you're seeing through the audio and written information that highlights what you can see in each scene. What you learn about these wonderful locations will be reinforced with the online activities and resources.
Each Trip video and gallery takes around 10-15 minutes to complete, and then there are lots of additional online materials for further learning.
Which headset do I need?
We recommend the Oculus Quest 2 for the full experience, but this course works just fine with a smartphone.
You can buy a phone-compatible headset for as little as $10 or get a more comfortable one for ~$30 headset from Amazon to get a taste of Spain in these 360 video Trips.
Click here to find out more about how to use Dynamic Spanish with different VR headsets.
Starter Pack
Beginner learners will:
Have your first Spanish lessons without leaving home
Meet real people and answer their questions in simulated encounters
Start your journey to fluency with all the tools you need to continue
Trips
All learners will:
Enjoy guided tours around Spain from the comfort of your home
Learn about the language and culture while exploring Spain
Visit Seville, Sagrada Familia, Alhambra, Pyrenees and much more
Founded by British nomads
Dave and Katie, the husband-wife founders of VR Languages, are British nomads who love languages, travel, and tech!
Dave is the video director for Fluent in 3 Months, and podcast producer of The Language Hacking Podcast.
Katie is our Director of Languages, having studied German, Spanish, Portuguese, Korean, and Turkish! She has experience teaching languages and developing curriculums.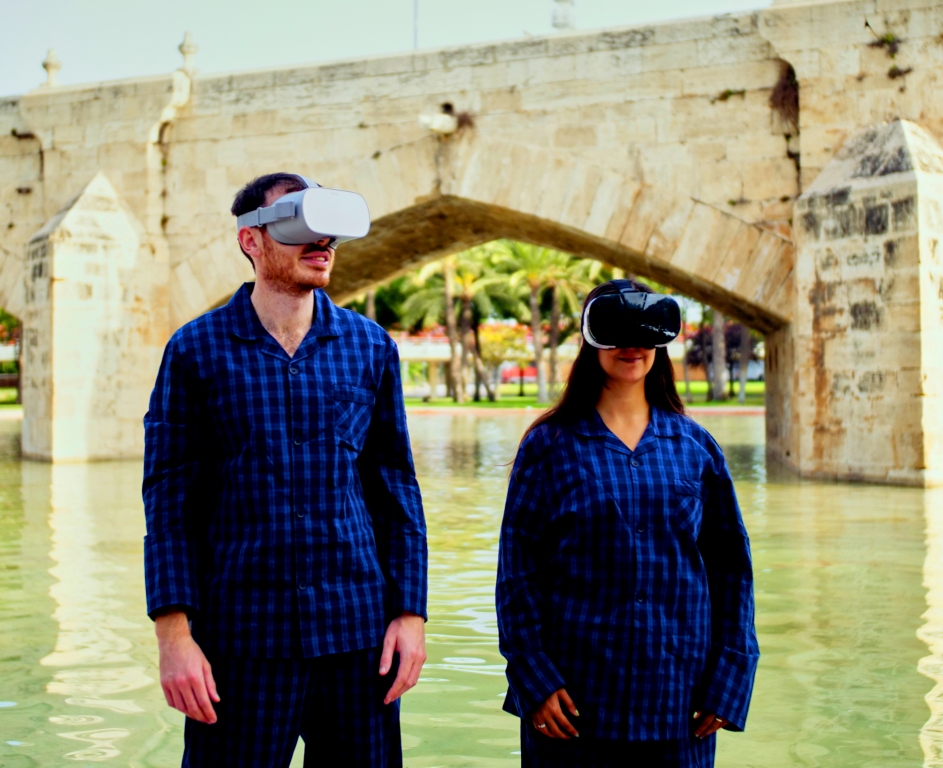 Frequently Asked Questions
Do you have a question about Dynamic Spanish? The most common questions are answered below but if you have a question that isn't covered, feel free to contact us.
▶ What is Virtual Reality?
In simple terms, Virtual Reality (VR) is the use of computer technology to create a simulated environment. Dynamic Spanish does this with 360 degree videos, which completely surround learners as they watch and interact with in realistic conversations.
VR is usually experienced with a headset, but you can use Dynamic Spanish with your smartphone and learn in VR by turning your phone into an immersive Spanish environment!
▶ Do I need a VR headset to use Dynamic Spanish?
No. Your experience of the course will be different depending on the technology you use, and there are three ways to interact with the Dynamic Spanish VR content:
You can use a

smartphone, tablet or computer

as a "Magic Window" to view the 360 content. You will have access to all of the 360 videos and photos, but this is the least immersive way to experience it.

You can put your

smartphone in a mobile VR headset

, such as the Google Cardboard. These headsets start at as little as $10 and will increase the immersive nature of your experience significantly.

You can download the Dynamic Spanish app to your

Oculus headset

. This will give you the fully immersive experience, with the added bonus of AI speech recognition and more customisable settings.
▶
​How do I use Dynamic Spanish on my phone?
Dynamic Spanish is available as a series of 360 videos via the Vimeo app, available for Apple and Android devices. The 360 galleries are included in the online course, along with all other course materials.
Video tutorials and more information about how to use Dynamic Spanish with your smartphone or a headset can be found here.
▶ I'm not a complete beginner. Is this course still relevant to me?
Yes! Dynamic Spanish Trips has been created with intermediate and above learners in mind. The guided tours use language designed to challenge intermediate learners, as do the accompanying online materials.
That being said, the Trips have optional Spanish and English subtitles, so learners of all levels can enjoy the experiences while developing their skills.
The Starter Pack is designed for complete beginners and lapsed learners, so the basic language being taught may not be suitable for intermediate learners. However, the Quickfire lessons and Conversation series will give even intermediate learners lots of opportunities to practise speaking and brush up on the basics.
▶ Which variant(s) of Spanish do you teach?
Throughout Dynamic Spanish you will be exposed to a variety of accents.
The classroom teaching in the Starter Pack centres around European Spanish, but you will encounter native Spanish speakers from Bolivia, Mexico, Puerto Rico, Spain and Venezuela, and non-native speakers from Europe.
The Trips are narrated and guided by native speakers from Spain, Venezuela and Mexico.
▶ How long does the course take to complete?
Starter Pack: We generally advise people to work through the Starter Pack in about six weeks, although this is entirely flexible and up to you.
We'll help you find time in your schedule, no matter how busy you are, so you can create a consistent routine and set of habits that will keep you progressing. Completing the course in six weeks lays a solid foundation and gives you the momentum to keep learning Spanish at a strong pace once the course finishes.
Trips: There are 20 Trips in the itinerary, each with accompanying online activities. Most people revisit places multiple times, and with regular VR and online sessions they tend to complete their tour around Spain in about two months. But remember, the Trips are always there to come back to when you feel like exploring.
▶ I don't have much free time. Can I study at my own pace?
Absolutely! There is no expiration on your access to the VR and online materials for the Starter Pack or Trips, so you are free to go at a pace that suits you.
Just remember that the best way to ensure progress with your Spanish is to interact with the language daily. So whether that's with a podcast, some music, a conversation with a tutor, or Dynamic Spanish, it's the daily contact with the language that will keep you on the path to fluency.
▶ Other than the VR videos, what else is in the course?
Lots! With the Starter Pack you get an online course full of modules that not only teach you Spanish, but help you understand how to learn Spanish efficiently.
The Starter Pack and Trips both include online modules full of videos, audio files and worksheets with listening, speaking, and grammar exercises, and lots of other materials for you to learn Spanish with. We've also included links to our favourite free resources, such as podcasts, YouTube videos, apps and articles.
These online modules are available on desktop and mobile so you can improve your Spanish whether you're at home or out and about.
▶ How do I pay?
Click the button below and pay online with your credit or debit card. We currently only accept payment in USD.